Training package
Training package
For the provision of legal training for court staff, six sets of case studies on selected EU legal instruments in cross-border civil litigation were developed. The materials focus on tasks relevant to the work of court staff and are as basic and practical as possible. Each case study encompasses the case scenario, the suggested solution, and some methodological advice for using it. The finalised training materials are freely available and downloadable. The entire training package is available in three of the most frequently used languages in the EU, namely in English, French and German. Translation of parts of the materials are available in Bulgarian, Finnish, Croatian, Dutch, Hungarian, Latvian, Lithuanian, Polish, Portuguese, Romanian, Slovenian and Spanish.
e-Tool
e-Tool on European Cross-border Civil Procedures: Legal English for Court Staff
The principal goal of the developed e-tool is to assist users who wish to improve their level of English in the field of European cross-border civil procedures. This interactive e-tool introduces users to the main difficulties of dealing with the specific topic in English, but it also aims to improve their listening, reading and writing skills in English. The e-tool is freely available.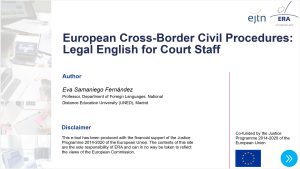 Please click here to start the e-tool.
Questionnaire
Questionnaire on the training needs of court staff
One of the biggest challenges of this project is to determine the training needs of the project's target group, as we have different types of court staff in each Member State with a wide diversity of educational background, responsibility and specific roles in cases with EU law aspects. In order to ensure that the training materials developed will be of practical relevance for court staff in each country, the project's supporting organisations were asked to respond to a short questionnaire about the competences of their national court staff in the field of European cross-border civil procedures as well as in regards to their English language skills. 17 supporting organisations from 16 different EU Member States (AT; BE; BG; DE; ES; FI; HR; HU; IT; LT; LV; NL; PL; PT; RO and SI) filled out the questionnaire. The answers received may be found here.
---

Co-funded by the Justice Programme 2014-2020 of the European Union